It's no secret that I LOVE my cricut and have been using it to great effect in the classroom for the last few years. (See my Pinterest page with my ever growing collection of personal photos here)
I've also been using my cricut for special occasions at school – Christmas, Mother's Day, Easter, World Teachers Day, just to name a few! And it's not just for gifts – it's also been a wonderful tool for hands on activities.
Here's just a sample of the ones I managed to get photos of.
Christmas
Snowman t-shirts for our class performance at the Christmas concert. I made every grade 2 student a snowman t-shirt (they looked soooo cute!) while the teachers had the snowmen with the hats as a point of difference.
Student baubles ready to be discovered hanging up a week before Christmas break
Ice block holders for student gifts
Named baubles for co-teachers
Lacing cards – I cut out both the square and many small circles in a Christmas themed pattern ready for stitching. Students used a blunt needle and wool to lace in and out. These were then stuck to the front of Christmas cards for a personalised DIY parent card. These are cards my grade 2 students made. Fantastic for fine motor skills. Gorgeous! **Hint** – the love heart templates are perfect for Mother's Day cards too!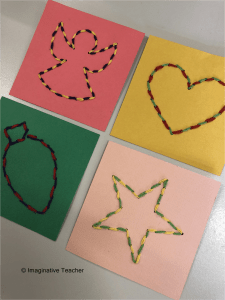 Want a copy of the free cricut pattern file that I designed? Click here!
World Teachers Day
Who doesn't love a surprise gift? Each year I make super cute personalised gifts for my co-teachers to let them know they are appreciated. Here's a selection of what I've made over the years: mini stationary sets (print and cut), hole punches,  pens, candy jars, and Bitmoji stickers with the a picture of the recipient (print and cut).
Remembrance Day
Wearing a poppy is an important symbol of respect and reverence. Each year I make gorgeous poppies for my teaching team to attach to their shirts with a safety pin.
Easter
Bunnies! I love these little bunny huggers! Wrap one around a mini egg and leave on student desks as a surprise. This was a free download from Lia Griffith (click here for the freebie link!)
I'd love to know how you use your cricut for special occasions! Happy cricut-ing!
✏️❤️ Katie