With school about to start for the 2017 school year, teachers all around the country are crazily trying to get their classrooms sorted and organised for Day 1. I often read Facebook posts with teachers enquiring on what others use for certain purposes. The most popular discussion topic recently has been… wait for it…….. pencil pots!
Do they go on desks or in drawers/trays? Do students have shared group pots or individual pencil cases? I thought I might share with you what I did last year and it worked so well I am going to continue to use it again this year with a little refresh (more about that later).
Last year I racked my brains on what to do. I was going from a year 4/5 class where students had their own pencil cases into a year 2 class and desk pots where needed. Baskets were too flimsy, the plastic crates from cheap shops didn't provide divided sections and the specialised ones from Education specialist stores where too darn expensive (especially when these were coming from my own pocket and I need at least 8)!
So I headed to one of my favourite stores, Kmart, to see what I could find. I found small tins and baskets but nothing really caught my eye until I headed into the garden section….. There I found this set!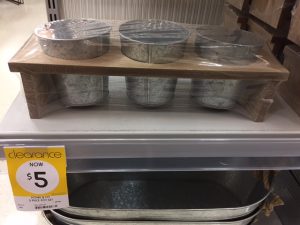 Made of thick galvanised tin, 3 pots standing inside a sturdy wooden holder with each one being removable if needed (plus on special for only $5 each)! Intended for small pot plants, I knew these would be ideal –  with a few adjustments of course. Whilst being made of thick tin, there are no sharp edges. The top and base are both rolled so all edges are smooth and little fingers are in no danger of being cut.
I knew these were perfect and durable but I also knew that dropping pencils, scissors and glue sticks into the bottom of the tins would be beyond annoying with constant 'ping' 'ping' noises more than likely to occur.
Next I headed to the art and craft section and purchased myself a set of felt sheets. At only $6.00 there were 12 gorgeously bright colours included and measuring 21 cm x 30.5 cm I only needed to use half of each sheet then save the rest for this year!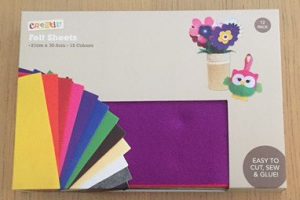 I traced around the bottom of the tins 3 times onto each felt sheet.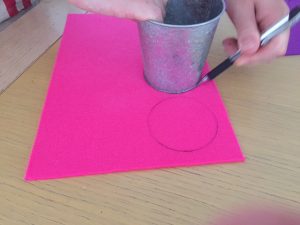 Then I cut out the circles and sorted them into colours.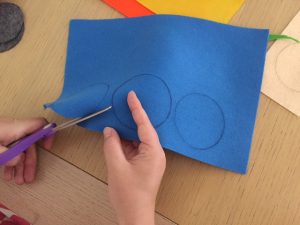 I applied glue into the bottom of each tin and stuck inside a felt circle to cover the base.
Leave to dry for 24 hours and Voila! Awesome durable tins that look fantastic on desks and are extremely hard wearing.
With a chevron theme, I also attached some washi tape I found in the Kmart art and craft section for $1 around the top of each tin to tie it all in to the other classroom decorations.
A friend of mine asked me why I didn't do multi coloured pots (ie 3 different colours per stand) however I preferred to keep the three tins the same base colour because then I could align them to a group. Ie one desk group had the red tins, another had blue tins etc. Also helped students to be accountable to top them up and replace items when needed. 'The blue tins need some more lead pencils Miss' You get the idea. But again – just my personal preference.
By the end of the year the felt at the bottom was dirty from pencil shavings but the tins were still in excellent condition. So I tore out the old felt and glued in fresh – remember I still had half a sheet of each colour left from the previous year!
Pencils go into one pot, textas into another and scissors, glue sticks into the third. Easy!