Literacy is so much more than reading and writing, with listening being an important component as well, as has been recognised in both the US Common Core Standards and the Australian National Curriculum.
Not surprisingly, this is one area that students really struggle with. Yes, they can often listen, but actively listen and then respond to what has been heard takes practice and is a skill that needs to be taught.
Listening also goes hand in hand with writing – The old saying of 'if you can't say it, then you can't write it' is definitely true, especially for those students who have speech impairments or issues with their verbal communication.
Often when students are reading aloud, they take for granted what they themselves sound like. To practice this valuable skill, I made some whisper phones (with the help of my handy hubby!)
These simple gadgets allow students to slow down, sit quietly and listen to themselves read.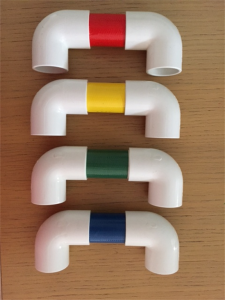 As the name of the item suggests, only a whisper voice is required, allowing for a whole class to read undisturbed. As students have quiet reading time, whether it be for designated 'read to self' time or perhaps after lunch play for relaxation, they are given the opportunity to read a text of choice to themselves and actively listen to the way their own voice sounds.
I learnt how to make them myself from this site.
While this link is US based, I found it did cost me significantly more here in Australia, with each phone costing about $4 each. I purchased all of the materials from Bunnings (60 elbows, 5 pieces of 3/4 inch PVC pipe cut into 3 1/2 inch lengths, a pot of glue and duct tape for decorating). The whisper phones however are extremely durable and will last for many years to come without needing to be replaced or repaired.
Due to the nature of the whisper phones being used close to student's mouths, I clean them twice a year. As they are made from industrial plumbing pipe pieces, they are easy to wash in buckets of warm water and disinfectant and then left out to dry. A capful of Dettol is amazing for keeping the germs at bay. It's also useful to have some Dettol wipes on hand just in case there's some spit happening from excited students!
I store my whisper phones in a handy tray at the front of the room that students can easily access and then put away themselves.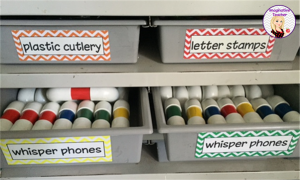 My students LOVE using the whisper phones. These are a definite fun 'go to' device that is simple, but extremely effective. I've had older classes borrow my class set for struggling students and the feedback has been amazing. Concentration has increased and focus on the read word has improved plus the students enjoy using them. Win win!
I would strongly recommend you having a go at making your own. Even a small set of 6 to 8 for small group work or a station task would be invaluable.